Past Articles
| | |
| --- | --- |
| Chiropractor Cures Paralyzed K9 | |
The following is a re-posting of a recent article discussing the incredible power of chiropractic care. While in this case the patient happened to be a paralyzed dog, the mechanism is not much different, if at all, in humans: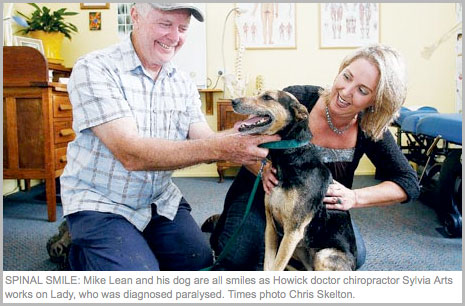 Mike and Tania Lean's cherished pet Lady was hit by a car last year and diagnosed "paralyzed" and worse by their vet.

Cue Sylvia Arts, a doctor chiropractor, who when asked if she would treat the eight-year-old mongrel could not refuse.

"Mike rang me terribly upset," says Ms Arts. "He told me Lady was paralyzed and would have to be put down. He just said 'will you try?'

"At first I said I had never dealt with anything of this capacity. Mike said to me, 'a back is a back, a bone is bone, would you please check her?' If you can potentially help, how can you say no?"

Mr and Mrs Lean travelled from their home at Kaiwaka, north of Wellsford, to visit Ms Arts in Howick, a trip they've been doing for some years as her regular clients.

Giving it a go, Ms Arts says the first time she saw Lady, the little dog couldn't move her two hind legs and was in "terrible pain".

"I'd been told she was paralyzed, but I knew she could feel what I was doing," she says.

"Then her tail started wagging – we all nearly started crying. I was as astounded as Mike and Tania were."

Lady's mum Mrs Lean told the Times the dog now runs around as if the accident never happened, the opposite to her diagnosis.

Although Ms Arts enjoys working with Lady, it's an unusual case and she prefers to keep her practice for humans. "Obviously if someone came to me [with their animal] and had no other option I wouldn't say no," says Ms Arts.

"People should always go to their vet first and there are professional veterinary chiropractors out there."

Whether it's a human or canine, Ms Arts has used her same healing principals on Lady.

Initially she treated Lady daily, then every three to four days and had her bounding around in two weeks.

"Looking at Lady now, you'd never know what she went through last year," says Mrs Lean.

"Seeing Sylvia really worked for us and it still works for Lady."

Ms Arts does not want to take any credit for the dog's rehabilitation. She says she works on a principal of "getting the body to heal itself".

"Her tail started wagging – we all nearly started crying." – Sylvia Arts
"I clear the subluxations [when spinal joints misalign] to the vertebra, then the central nervous system, which is like the super highway of information from brain to body, can communicate better and then go on to heal itself."

Lady still visits Ms Arts "every few months" for minor readjustments.

Her owners say that "it's easy because Lady gets treated the same time as we do".

"She still gets a bit nervous but mostly excited when she comes in," says Ms Arts. "It's as if she knows what I'm doing is good for her."


Author: Jo Tuapawa
Source: Howick and Pakuranga Times